Introducing the all-new BTC-300 Track Carrier
It's been nearly a decade since the first Bandit® forestry mower entered the scene for land clearing professionals. Much evolution has occurred since then, including the development of interchangeable forestry mulching and stump grinding heads dedicated to large, high-production land clearing operations.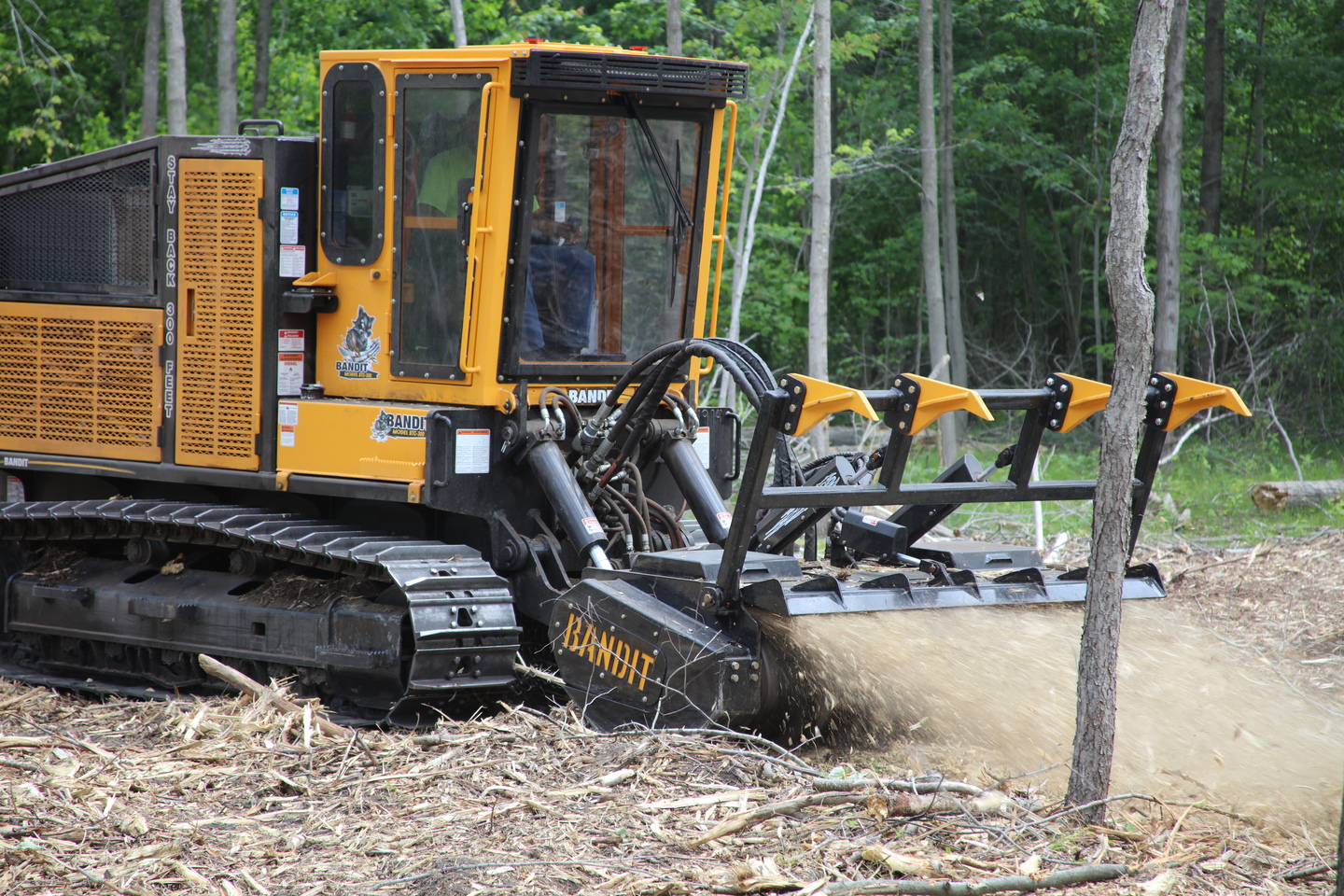 The new BTC-300 Track Carrier is the culmination of that evolution. It's an all-new machine from the ground up, built using the experience gained through previous Bandit models like the 3500, 4000 and 5000. It's also one of the most customer-focused machines ever built at Bandit, with designers and engineers incorporating a wide range of aesthetic and functional ideas from customers on what they need and what they'd like.
The BTC-300 retains many of the features that set Bandit track carriers apart from the competition, including tilting cabs for better maintenance access, interchangeable mowing and stump grinding attachments for unmatched versatility, separate hydraulic systems for the attachments and drive components, and class-leading performance. Following a highly successful testing and evaluation period, the BTC-300 is now available for purchase.
The Bandit BTC-300 is a game-changer for professionals working in high-production land clearing environment. Bandit Bits sat down with Bandit Track Carrier Product Manager Scott Woods and Forestry Mower Lead Engineer Derrick Davis to talk about this new machine, and how it stands out from the rest.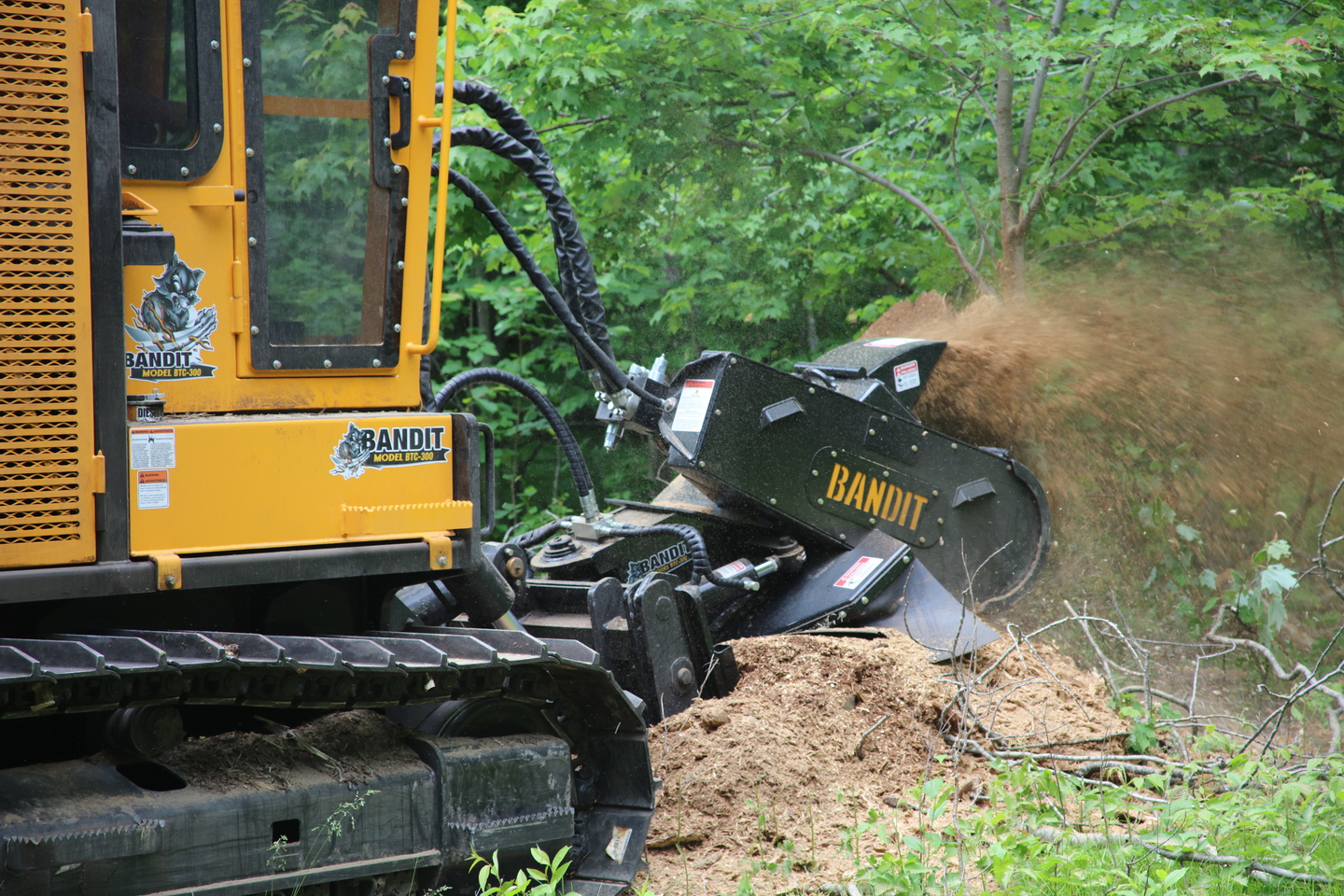 Q: The BTC-300 replaces the Model 3500, which was a popular machine. Why build something new instead of just updating the 3500?
A: Tier 4! The new tier 4 engine options are larger and about 1000 pounds heavier so we needed to do some extensive redesign. This was also a good time to really get in and make some other fundamental changes and updates from customer feedback we'd received over the years. We wanted to build a better machine to meet those specific needs.
Q: What are some of those needs?
A: Better visibility and quieter cabs were big – making the cabs roomier and more comfortable. Better maneuverability, more track power, easier-to-access service points. Another big one was providing more clearance for the track chain; that helps with noise and the tracks clean up easier. Horsepower is up to 315, which is quite a bit higher from the 3500; we increased the cutting width of the mower from 72 inches to 90 inches. We've increased torque to the stump grinding head by 30. The grinding wheel size is up to 44 inches in diameter. Pretty much any customer concern we've heard in the last five years has been addressed on this machine. And of course we needed to make the changes for tier 4 engines.
Q: What specific changes were made for tier 4?
A: We had to make things bigger overall. The BTC-300 had to get wider, taller and longer to fit the engine. The overall size didn't change much, but inside it's bigger. This is actually the first Bandit machine to use a unibody steel frame instead of steel beams; that gave us additional strength despite the extra width, it saved weight and it really saved on production costs. With the engine being so much heavier we took a real close look at how we could save weight without sacrificing strength.
This was also a good time to really get in and make some other fundamental changes and updates from customer feedback we'd received over the years. We wanted to build a better machine to meet those specific needs.
Q: Did you start this whole process working from the 3500, or did you just start fresh?
A: We started fresh with a blank piece of paper. We looked at the whole machine, big things and small, and redesigned it from the ground up. Keeping the weight down was a concern, but by starting fresh we were able to incorporate everything we needed without giving up anything, and it still came out even stronger than before. And we managed to keep the CAT 315 undercarriage, which is huge. That's the best undercarriage you can get in this field. And we could go even lighter with the CAT 312 tracks; the 3500 had 312s and we'll still offer that as an option, but the CAT 315 undercarriage is standard for the BTC-300.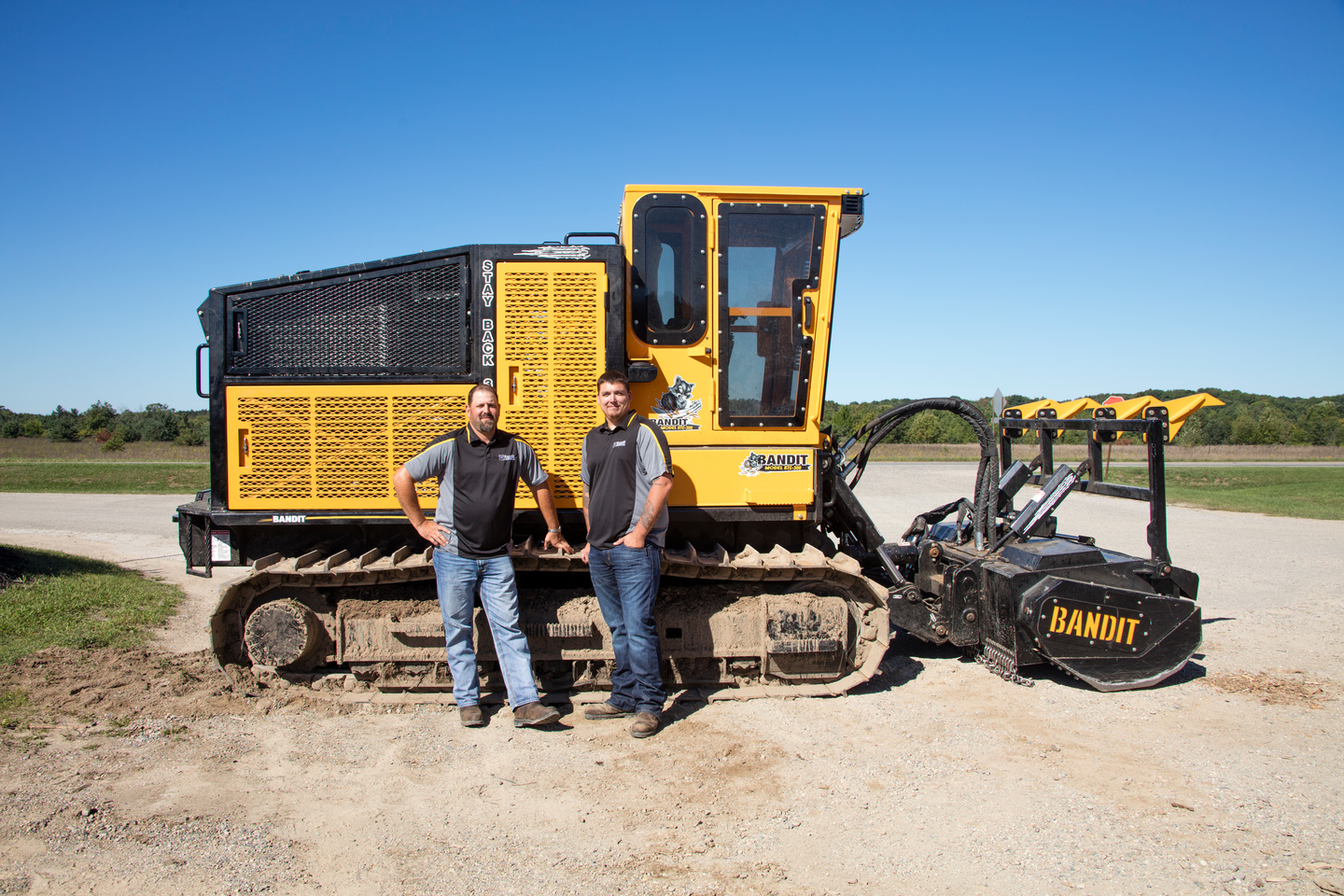 Q: How did you improve maneuverability?
We changed the track gauge. The tracks are wider from the centerline sprocket distances, and we also increased the track pump pressure a bit. But the main difference is the track gauge.
Q: Aside from design changes for tier 4 engines, ergonomics and creating a user-friendly cab were high on the list for changes. What all is different about the cab?
A: For starters, visibility is much better. We knew we wanted a full view, so we moved all the controls out of the way of the operator's view. We have a full-front clear polycarbonate window that's 1 ¼" thick. That's ballistics-grade material, and we used it so we could remove all the guards that hindered vision and still be FOPS/ROPS/OPS certified. With the guards gone we could make the cab much nicer inside with a finished interior, and it also reduces noise. Side doors are all window with clear polycarbonate, and back side windows are bigger; you can now see track lines from the seat. We also added a rear polycarbonate window and an escape hatch window.
Then we really focused on controls; we wanted to get rid of the toggle switches all over the place, so everything now is either on the button pad or the joysticks. We have new joysticks that put everything at the tips of your fingers. Control functions can be programmed and customized for individual preferences, and two settings can be saved so multiple operators can easily switch between their preferred settings.
Q: Was there any specific inspiration for the new cab?
A: We went based on what customers said they wanted, and we wanted people to feel like they're in a vehicle, not a heavy piece of machinery. Along with increasing the view, the cab is now fully rubber-isolated so noise and vibration is much less, but it still tilts forward for maintenance. The whole HVAC system is revised, and even in serious heat this system won't just keep you cool, it will keep you cold. It's an industry-leading HVAC system with adjustable vents at the window and your feet, so in winter time your feet stay nice and warm. That was something our customers in the north really wanted. We kept the fully adjustable air ride seat with five-point harness.
Q: You really didn't overlook anything with the new cab, did you?
A: We even have a padded cell phone holder with charging ports next to it, so guys can have their phones all day and not get them scratched up. And there are two cup holders, one that's big enough to hold a 32-ounce drink or a large coffee. We wanted to make sure operators were taken care of on this machine.
Q: Outside the cab, what are some of the other big changes?
A: Let's start by actually saying what we didn't change. We still run the dual hydraulic systems that are separate for the undercarriage and the attachments, because that's a huge plus for our customers. And we still have the individual stump grinder and forestry mower attachments like before; we're the only company to really offer something like that in a track carrier this size. The process for switching is very easy and can be done in the field in less than 10 minutes.
As for what's different – if you look at the machine it's sleek. The mower head is wider than the machine and there are no big flat surfaces like their used to be so limbs and branches don't get caught against the machine. From a maintenance standpoint we've set things up to where you can do your daily machine inspection all at ground level, whereas before you'd have to climb and pull things off to check fluid levels. That can now all be done easily at ground level, and it can be fueled from the ground as well. We've also added LED lights to engine compartments for better visibility.
Q: Anything new with the attachments?
A: The big thing is the forestry mower now has a 90-inch wide cut, which is much wider than the 72-inch cut on the Model 3500. We kept a sleek, flat-top design for the head that really helps with visibility while mowing. We moved the hydraulic cylinders-on center with the push bar, making the push bar stronger and giving it more travel. It pivots over further and the bar now has hooks to help pull material back in. We addressed all wear points on the heads, redesigning them to be less susceptible to wear. The tooth and raker system on the mower head is a patent-pending design that creates a finer mulch, finer cut, and increased tool life and they're easier to replace. We did all this with only a small increase in weight; the 90-inch mower for the BTC-300 is actually lighter than the 84-inch mower for the Model 4000.
We also added a float function for the mower head that will automatically follow the terrain instead of having to do it manually. This function will really help inexperienced operators get used to the machine without burying the head in the ground, and that's really going to extend the life of the wear parts and the attachment.
Q: How about the stump grinding attachment?
A: The stumper head is basically the same as the previous design, but customers wanted something larger so we bumped it up to a 44" diameter wheel. It's belt-driven, and we revised the gearing to provide 30 percent more torque to the head.
Q: You've had the prototype machine out for quite a while, testing it in-the-field with customers. What's kind of feedback have you received?
A: The feedback has been excellent! They love the functionally and performance of the BTC-300, with not a single complaint. The only suggestion we received was a guard for the windshield wiper, which we've already addressed for production versions.
We looked at the whole machine, big things and small, and redesigned it from the ground up.
Q: If you could tell people one thing about the BTC-300, what would it be?
A: We built this machine with customers' needs and wishes in mind, and we designed it to be extremely user-friendly and productive. Once customers give it a test-run, they're going to wonder how they ever got by without it.